Greenfield Animal Hospital is open Monday-Friday 9-7 and Saturday/Sunday from 9am-5pm.
Open EVERYDAY of the year with the exception of Thanksgiving & Christmas.
Although we are not an Emergency Clinic, your pets health and well being is important to us!
If you think your pet is in need of URGENT medical attention you can 
Call us at
518-893-6228
We will do our best to get you seen as quickly as possible. However in cases where we aren't able to provide your pet the support they need, we will provide alternative locations for your pet to be seen ASAP. 
Please scroll down for additional numbers for emergency services outside our operating hours…
**** 

Signs you should seek immediate medical attention for your pet:

****
Difficulty Breathing / Rapid Breathing or Heart rate / Increased Respiratory Effort / Collapse / Obstructed airway
Unproductive Retching / Pale, Grey, Lavender or White Gums or Tongue / Abdominal Bloating
Seizures / Tremors / Confusion / Disorientation / Non-responsiveness / Dizziness
Difficulty Urinating / Urinary Blockage / Vocalization with Urination / Unproductive Squatting
Bleeding / In Vomit / In Feces / Open Wounds
Repeated Vomiting / Diarrhea (several times over 1 hour, or lasting more than 4 hours) / Toxic Ingestion
Distressed Mother in Labor / Excessive, Odorous or Purulent Discharge
Trauma / Accident / Fall / Hit by Car <— VERY IMPORTANT EVEN IF PET SHOWS NO OUTWARD SIGNS OF INJURY
(+) Even if your pets behavior or emergency is not listed above, do not hesitate to call if you suspect something is wrong or "off" with your furry family member! Even subtle changes in behaviors or habits can indicate trouble lurking! (+)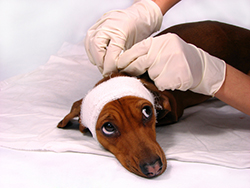 Emergencies, accidents, and illnesses are unfortunate facts of life, but how many of us plan for the unthinkable before it happens? What would you do if your pet were suddenly sick or injured? Do you have a plan? Do you know where to go for help if your pet needed critical care or had to be hospitalized?
We understand how upsetting it is when your pet is sick or injured. We also know that when your pet is hospitalized and needs critical care services, you want the very best level of care possible. For these reasons, we offer urgent and critical care veterinary medical services although we are not an emergency vet hospital. Our expert health care team is staffed with caring, compassionate, highly skilled professionals who are dedicated to providing quality care for your pet. If we are unable to serve your pet during a medical crisis, we will provide you with a location that can. Your pets come first.
Your pet is a special member of your family and provides you with companionship, entertainment, and unconditional love. But your pet relies on you for daily needs such as food, shelter, and safety and to take care of things when they go wrong. Our expert emergency and critical care professionals want to be there for you when you need us. Our veterinarians and technical support staff are on premises working as a team with expertise to respond to emergency calls and critical care situations. Rest assured, if you ever have an emergency with your pet, there is quality veterinary help nearby.
Help is only a phone call away. Keep our phone number with your other emergency numbers and call us any time. 518-893-6228.
Other Emergency Numbers:
Northway Animal Emergency Clinic

Northway Animal Emergency Clinic

35 Fawn Road, Gan­sevoort, New York 12831

(518) 761-2602

Open 24 hours, 7 days a week, including ALL major holidays.

Exit 17N off the North­way (I-87) onto Route 9N.  Look for the big red sign and take a left onto Fawn Road.  Located on the corner and across from Dunkin Donuts.

Capital District Animal Emergency Clinic

Capital District Animal Emergency Clinic

222 Troy-Schenectady Rd (Route 2), Latham, NY 12110

(518) 785-1094

Open 24 hours, 7 days a week, including ALL major holidays.

ASPCA Poison Control Center

ASPCA — Ani­mal Poi­son Con­trol Center

1-888-426‑4435

(A $60 consultation fee does apply) One of the best resources for any animal poison-related emergency. If you think your pet may have ingested a poisonous substance, call the poison control center, 24 hours a day/ 7 days a week for a consult with a veterinarian specializing in animal toxicology.

Pet Poison Helpline

1-800-213-6680

This helpline is another 24hr service available to pet owners as well as veterinary professionals to aid in the treatment of a potentially poisoned pet. The Pet Poison Helpline manages cases with dogs and cats as well as avian and exotic species.

Wildlife Emergency?

North Country Wildcare

(518) 964-6740

North Country Wild Care is a network of home-based wildlife rehabilitators located in Schenectady, Warren, Washington, Saratoga, Albany, Rensselaer, Montgomery, Fulton and Essex Counties.