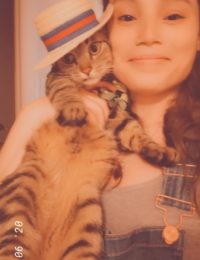 Veterinary Assistant
I'm a Vet assistant here at Greenfield and I have been working here for about 3 months now or since September 2020.  This is my very first job working directly with animals and I love it.
I have always had a passion for working with animals and have owned my own pets my whole life. What drove me into working in the vet medicine field was the need to want to help heal animals in need. I wanted to help find the answers to make them feel better. The hardest part about working in this field is seeing an animal in pain and not being able to do a thing about it.
Working here at GAH is great. Everyone is so kind and always willing to go the extra mile for the animals in need. What I love about my role here most is being a "calming friend". Sometimes the pets come in a bit nervous, and let's be honest… who likes going to the doctors anyway? So, I love being the one who gets to show them that its okay to be here, I like to show them that we are here to help, and they don't need to be nervous or skittish.
I currently have 2 cats: Milo Thatch and Luna Loo and recently I added a puppy to our clan named Piper Halliwell.