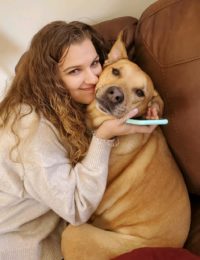 Vet Assistant
I am a veterinary assistant & have been working at GAH since July of this year. I have worked with animals since June of 2019.
I love the work environment at GAH & how everyone is so willing to help each other out. The thing I like most about working in vet medicine is being able to help those pets who cannot advocate for themselves who are sick or are in pain & see their improvement. The most challenging thing I find about working in vet medicine is watching various animals come in from time to time who are experiencing unmeasurable amounts of pain. It hurts my soul to see animals go through that pain & all I want to do is make it better for them.
The aspect about my role at GAH that I enjoy the most is being able to soothe & comfort a pet who is frightened & nervous for their exam.
As for myself I have two cats at home & their names are Pumpkin & Phoenix