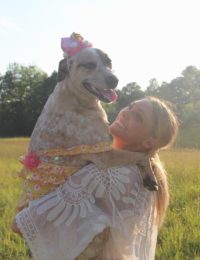 Veterinary Assistant (Veterinary Technician degree in progress)
I am a vet assistant here at Greenfield Animal. I started working here in August of 2017 but have worked with animals since I was 16. I have previous experience as a Veterinary Technician in Arizona where I worked at a spay/neuter clinic and with a mobile surgical Veterinarian. What I love most about working in veterinary medicine is that there is a large variety of opportunity to see and do something new every day. Currently I am attending Penn Foster College to pursue a degree in veterinary technology. Eventually I would like to work in a small animal emergency setting as I love to be challenged and constantly on the move. What I love most about Greenfield Animal Hospital is that all of my coworkers have become so much more than that, they have become family.
Also I am the lucky human to 3 dogs named Lucy , Reata, and River and an American Paint horse named Star. I love to spend all of my free time with my animals, hanging out with my friends and spending time outdoors doing things like hiking, fishing and horseback riding.