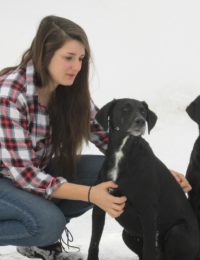 Vet Assistant , Receptionist
I spend my days at GAH doing 2 different roles here. I am both a receptionist and a veterinary assistant. I have worked here for about 2 months now.
I have been working in a veterinary hospital setting for almost 2 years overall. On the side I have spent some volunteer work with a husky mushing company in Vermont and I grew up around horses and cows and always helped take care of them at the barns in my hometown. So my passion for animals started a long time before then.
What I enjoy about GAH is how much more responsibility I have been given as an assistant at GAH. Being apart of the hands on aspect of care has been a pleasant improvement then what I have previously experienced in this field. There has been so many more opportunities for assistants to learn and help with the diagnosing process, along with being able to help run multiple tests, monitoring the animals, processing the clienteles information to make sure their pets are receiving the proper care.
I appreciate the value of the hands on work and experiences I get to be apart of at GAH. Examples are filling scripts, working hands on with the animals, processing pets information running blood work and fecal tests, being able to take x-rays, and etc. I also enjoy being able to work with some wildlife, exotic pets and farm animals.
My fur family consists of two family dogs that are siblings, that were brought up from Kentucky who we adopted when they were a few months old. They are Black lab mixes one is names Natalie and the other Sampson. They are 10 years old and about to turn 11.