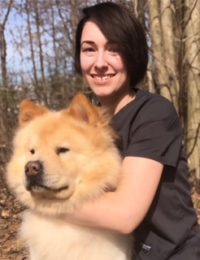 Veterinary Assistant
I am an Elite Fear Free Certified Veterinary Assistant and I have been at Greenfield Animal Hospital for 7 months. In October 2020, I completed my Certified Veterinary Assistant Program through Penn Foster. I am currently in Penn Foster's Veterinary Technology program and studying for my Approved Veterinary Assistant exam. In my free time, I manage our social media.
My mother introduced me to animals at a very young age. I was a year old when my mom put me on Pondie Arrow, an old buckskin Quarter Horse mare. At the age of 6, I started competing in NYSSHA (local horse show circuit). At this time I got my first dog Kane, he was a Rottweiler and practically my babysitter. In 2008, I was in Pups With A purpose 4-H club. With my late Shih-Tzu Harley, I did obedience training up to Novice level, grooming and handling, along with Canine Good Citizen Test (CGC) at the Saratoga County Fair. Essentially I have worked with animals professionally for a year and a half, but have been around animals all my life.
What I love most about Greenfield Animal Hospital is that we offer a variety of options to help our patients. From western and eastern medicine, rehabilitation, acupuncture, laser therapy, and chiropractic adjustments. It makes our practice very versatile in treatment for people's loved ones. I love making relationships with clients and patients that will last a lifetime. Every day here brings a smile to my face and makes me love my career more.
Animals have given and taught me a lot in life that I want to give back to them. I love being able to help animals and their families because at the end of the day they are our family as well. Veterinary medicine is always evolving so there is always more to learn. With that knowledge, I can care for our patients and be an advocate for them and their families. At times vet medicine can be more challenging. It is hard for me to see patients that are nervous, scared, or even injured. It is one of the many reasons why I became an Elite Fear Free professional. I can give all animals a FEAR FREE experience and make future visits easier. These are the most rewarding cases.
I have 3 dogs at home: a Chow Chow named Noah, and 2 Chihuahuas named Fable, and Saga. Along with them, I have Storm, a trusty Morgan mare who I competed with from 2003-2013. My other pets vary from rabbits, guinea pigs, hamsters, bearded dragon, fish, chickens and budgies.