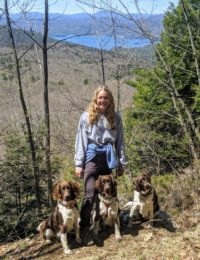 Veterinary Assistant (Veterinary Technician degree in progress)
I am currently a veterinary assistant at GAH but working toward a degree to become a licensed veterinary technician. If you can't find me on the front line, you can usually find me in our doggy rehabilitation room assisting pets work on their weight loss journey or helping others with some physical therapy.
I have worked with horses for my entire life, but with small animals in a hospital setting for about 4 years. One of my favorite things about working in Vet medicine is the diversity in patients and being able to help those who can't help themselves.
I worked here from 2015-2017 and found myself looking to work with large animals again. It didn't take me too long to find my way back to GAH.
What I love most about here is how amazing the veterinarians and techs are. They never stop doing their jobs and do everything in their power to ensure we are able to help all the patients we can while practicing extraordinary medicine.
Currently my house is overrun by the furry kind. I have 6 cats: MJ, Feather Bottom, Raven, Norman, Calvin, and Turbo. Four dogs: Maple, Oakley, Koa, and Sophia. Trust me it doesn't stop there… I also have 2 horses: Kela and Manny, 3 goats, Tater, Sweetpea, and Daisy, 14 chickens and 1 Rooster.
Safe to say I have a full house, but I can't say I'm not accepting any more.