How can Physical Rehabilitation Therapy help your pet?
There is a misconception that physical rehabilitation is only for injured pets. It actually helps many pets lead more comfortable lives. Here are answers to some of the questions that you may have about Canine Rehabilitation:
Hydrotherapy is an extremely effective method of rehabilitation for animals small and large. We're talking about all kinds of animals here, too – from dogs to horses to people to even cats… you name it!
Q. What is Canine Rehabilitation?
Canine Rehabilitation is very similar to the physical therapy services that have been offered for years to humans to prevent injury, following illness, injury or surgery.
The benefits of rehabilitation aim to reduce pain, inflammation, and swelling, and increase range of motion, strength, mobility, function and fitness.
Q. Why Hydrotherapy?
Studies have shown that, with hydrotherapy, animals recovering from surgery or injury heal up to 50 or 60 percent faster than with other therapeutic methods. How? Well…
The buoyancy provided by water lessens the weight-bearing load on an animal's limbs.
This helps reduce pain and lets the animal start therapy earlier.
Water applies pressure on an animal's limbs, which helps decrease inflammation and improve circulation.
By changing the water level, resistance and buoyancy can be changed to target individual muscle groups and injuries.
Water temperature can be changed as well to help the animal relax and further alleviate pain.
Muscle conditioning in water is not only an effective way of building up cardiovascular strength and endurance, but animals often find it fun.
Q. Which pets can benefit?
Rehabilitation treatments improve quality of life for a variety of pets, including injured animals, aging pets who are in pain, overweight pets trying to lose weight and those recovering from surgery especially orthopedic and neurological cases.
Q. Which conditions are commonly treated with rehabilitation?
Rehabilitation is frequently used to treat acute and chronic orthopedic and neurological conditions. Some specific examples include osteoarthritis, hip dysplasia, and recovery from a fracture or ruptured cranial cruciate ligament. Dogs with lameness, gait abnormalities, mobility problems or arthritis will also benefit.
Hydrotherapy is most often used to treat the following conditions animals suffer from:
arthritis
gait disruption
muscle stiffness
muscle atrophy
range-of-motion loss
trouble using stairs
spinal injury
paralysis
hip dysplasia
weight problems
coordination disorders
overall physical deterioration
injuries
pain
In addition, hydrotherapy is also used…
in post-operative rehabilitation
in retraining to compensate for nerve damage or other deficiencies
in general conditioning programs
to help prevent injuries
to provide intensive conditioning for sports animals
to provide calming, healing hydro-massage
______________________________________________
In Our Rehabilitation & Fitness Center: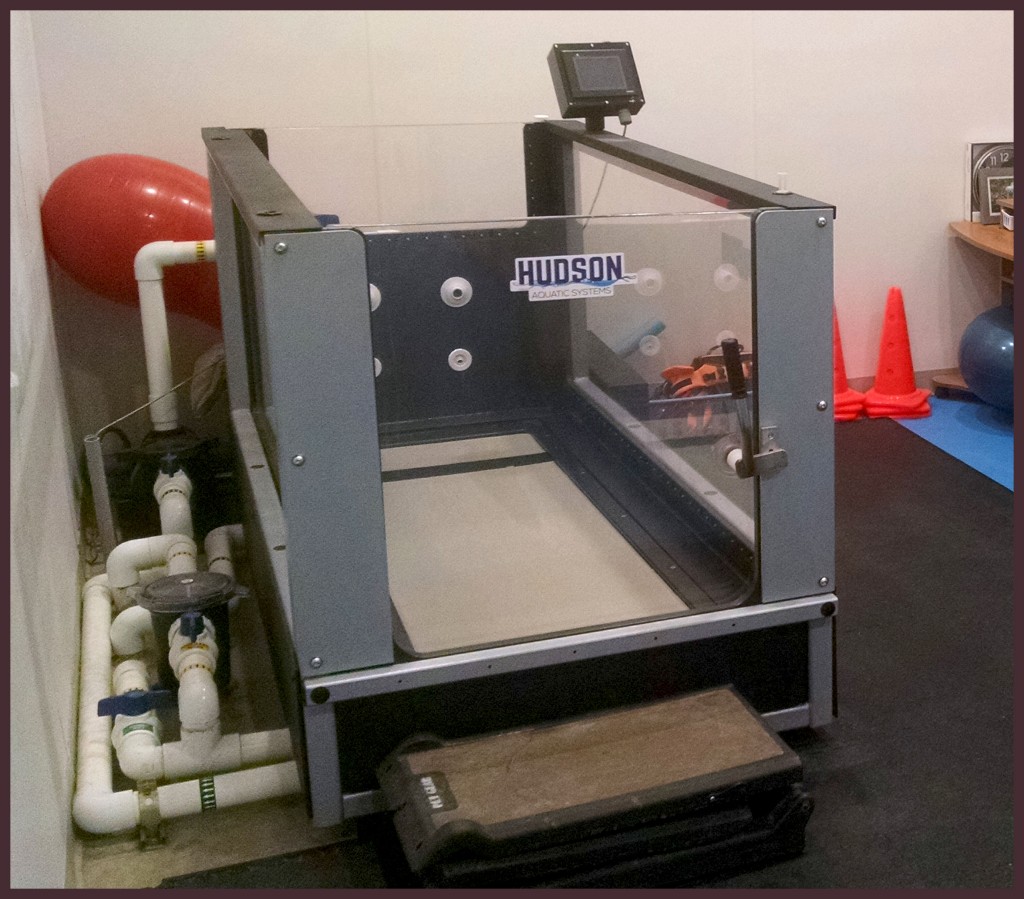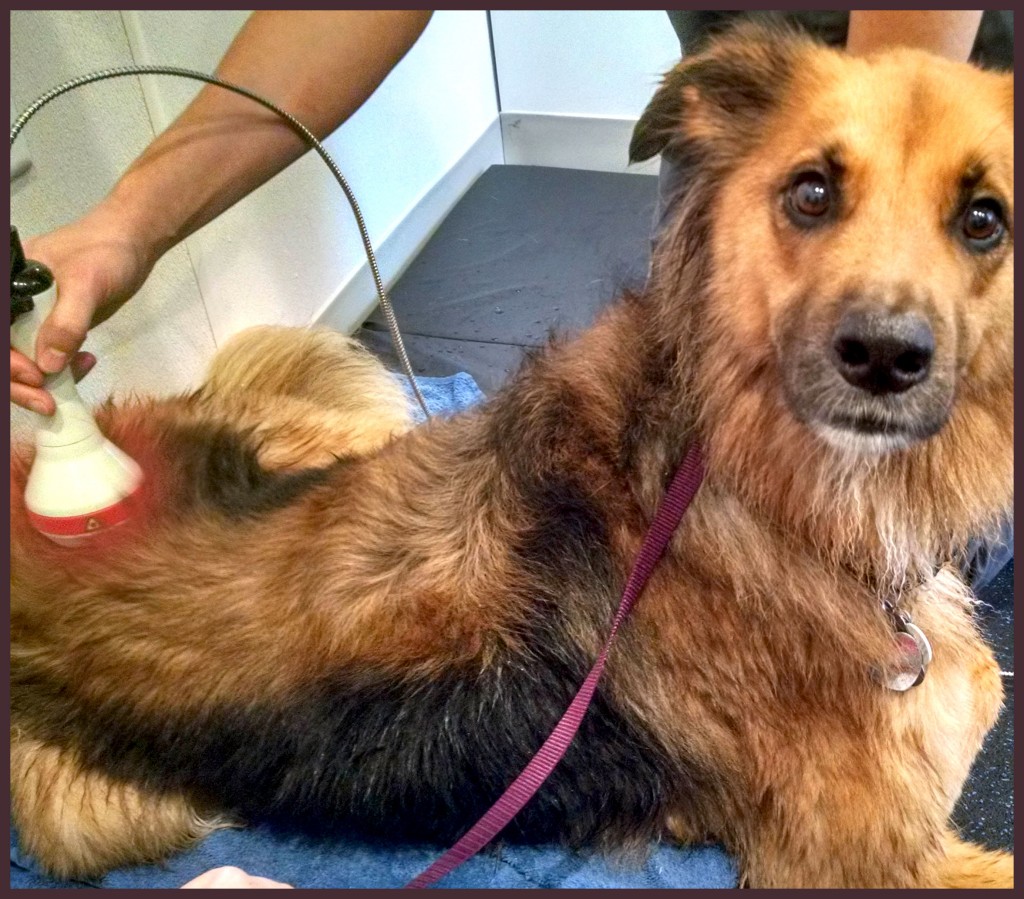 Therapeutic Class IV Laser Therapy

Intelect Vet Unit for Electro-Stim, Therapeutic Ultrasound, Combined E-Stim and Ultrasound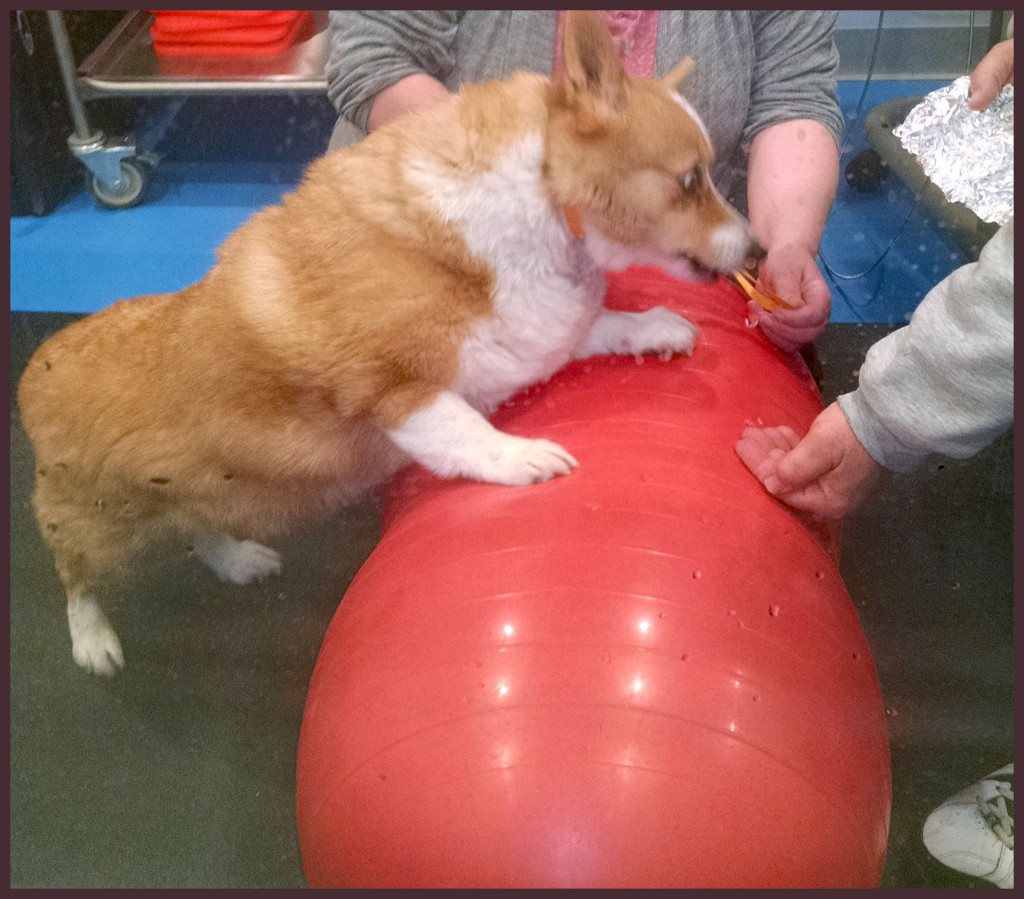 Physiotherapy – Peanut Ball, Balance Board etc. (Page coming soon!)