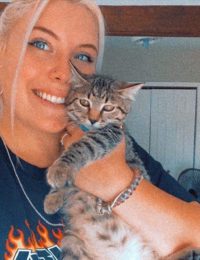 Veterinary Assistant
I started working for Greenfield Animal Hospital about 2 months ago; so in June of 2021 I began working as a Veterinarian Assistant. I've been working with animals for approximately 3.5 years now from an animal shelter in Brunswick Maine, a lead kennel tech in Cali. I also helped in vet clinics when they were short staffed. For about a year I even did some basic training for dogs at Milton Manor.
The environment that GAH has is very warm and welcoming. Its one of the many things I like about this place. All of my coworkers are like family, and are able to provide advice when ever its needed. On top of the great relationship I have with my coworkers, I absolutely love watching an animal become healthy from the care we provide. The expression in their owners alone when we are able to provide their pet relief is such an amazing feeling.
Working in Vet medicine can be challenging. One thing I have learned is that there are hundreds if not thousands of medications available for both cats and dogs. Learning them all and knowing all the different variations is how they can be used is hard. Veterinary medicine is always evolving.
Greenfield offers care to so many different species of animals, not just cats and dogs. I love being able to work with all of them. I am able to expand my knowledge on these different animals and I feel like the learning never stops. There is something new I can take away from the job everyday which is super rewarding.
As far as furry family members of my own, I have a 6 year old Aussie-border collie mix named Carly who I rescued (Or should I say who rescued me =]). I also have a guinea pig named Momo and a new baby kitty I recently added to my clan, named Nala.