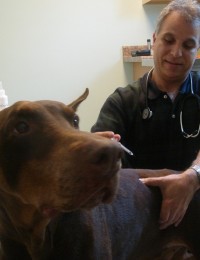 Doctor of Veterinary Medicine, Certified Veterinary Acupuncturist, Certified Canine Rehabilitation Therapist
Education: Ross University, Washington State University, Qi Institute
Dr. Frank Akawi has over 25 years of experience in veterinary practice and has discovered, tested, and formulated hidden health secrets from China to the Middle East and has brought them to the public. Dr. Akawi integrates the principles of Traditional Chinese Veterinary Medicine and Acupuncture into his vast Western medical background.
By no means has Akawi completely converted his practice to a non-Western animal haven. In fact, he emphasizes that his approach is now integrative, that Western tools and equipment are far superior for diagnosing disease immediately, and that they are quicker and better in an emergency. Eastern medicine requires patience and time and is built around a careful physical exam, including touching, smelling and a through feeling of the animal; examinations Akawi performs regardless of whether he plans a traditional or non-traditional approach to treatment. He believes in a close view of the tongue, and especially its secretions and color, which are clues to the condition of the heart and liver, and hints about how the spleen and stomach are digesting. He takes the animals pulse in six femoral locations, and considers the qi (energy) while deciding which Western and/or which Eastern treatments to suggest.
Dr. Akawi, a native Jordanian studied animal science as an undergraduate in Baghdad. Once in the United States, he earned a masters in reproductive physiology, an MBA, and a Ph.D. in pet health management. He also obtained a Veterinary degree from Ross University and completed his clinical training at Washington State University. He landed in Saratoga Springs serendipitously in 1999, in response to an ad in a professional journal seeking a veterinarian. Akawi previously owned Upstate Animal Medical Center and the Banfield Animal Hospital in Pet Smart in Wilton.
However, the practice of contemporary veterinary medicine has its limits. Akawi was finding himself frustrated and depressed when Western medicine stopped helping and he had to deal with bad outcomes for his patients or referring cats and dogs out to other specialists, where the outcomes probably weren't going to be much better. He then went to study Alternative medicine at The Qi Institute in Florida. There, he realized that homeopathic remedies (a medical science based on the use of natural substances) were both gentler and more effective in some cases than the rigorous surgical and drug-based methods he had been trained to use.
Still discouraged with just fixing symptoms and eager to balance the body and heal disease, Akawi embarked on a distant quest. Traveling to China ten times for three weeks. Each time to examine the achievements of herbal medicine and acupuncture on animals and learn advance methods at the university of Sichuan, south of china. After that, he dedicated himself to learning every one of the 320 points on the body that lead to the restoration of health and soundness.
He recalls the first time he called his new skills into use in the United States: "I saw a Basenji (a beautiful, barkless African dog) once, which had fallen off a porch chasing a squirrel. He was paralyzed from the waist down. It was dreadful. The owner was resistant to surgery which could have cost up to $5,000 and may still failed or massive steroid treatment, and gave me the go-ahead for acupuncture. I didn't know what we were in for and I prepared to have to walk her through the worst." Now he has trouble talking through his emotion: "In five days the dog was walking. Five days. It was amazing. My satisfaction with this outcome is immeasurable!".
Akawi sees an 70%-75% positive response to the treatments, and a particular dramatic increase in positive outcomes in cancer, which he calls, almost the same as what you will get with radiation and chemotherapy in some cases, but the important thing is the animal is more relaxed and has a better quality of life at the end of its life. Acupuncture can't heal everything, but it can keep the pets quieter, more comfortable and happy.
To read Dr. Frank Akawi's full bio, visit AcupunctureOnPets.com or read Dr. Akawi's book: "Acupuncture Saved My Life – The Story of Teddy Politis" online for FREE! American Association of Feline Practitioners