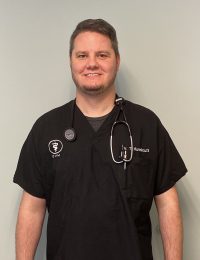 Doctor of Veterinary Medicine, Fear Free Certified
Education: Clemson University, Ross University, Auburn University
Trent Hunnicutt grew up on a small farm in rural South Carolina. He completed his undergraduate studies at Clemson University where he received a Bachelor's Degree in Animal and Veterinary Sciences. Dr. Hunnicutt then attended Ross University School of Veterinary Medicine, receiving a doctorate in veterinary medicine in 2013. He completed his clinical training at Auburn University and then returned to South Carolina where he practiced for two years in a small animal predominant practice.
In 2015, Dr. Hunnicutt relocated to the Queensbury area where he currently resides with his wife Christina (Celadon) and daughter Charlotte, along with a labmaraner "Abby", and cats "Chi-Chi" and "Pete". He is joining our team after practicing for four years at Adirondack Animal Hospital in Queensbury. In his free time, Dr. Hunnicutt enjoys being outdoors & spending summers with his family on Glen Lake.
Dr. Hunnicutt's professional interests include surgery and preventive medicine.